Training for Bello Gallico, my first 50 miler – October
It is the 28th of September as we drop our bags on the floor of our apartment, after a 12 hour flight and a 30 minute train ride we have arrived home from our holiday in Japan. Pictures needed to be sorted, stories needed to be told, but also, training needed to be started.
Arriving home was also the start of the build-up towards the Bello Gallico trail on the 17th of December, my first 50 miler. For many runners in the (ultra)trailrunning community, this trail isn't particulary difficult, but for me the 80 kilometers and 565m of elevation gain will be the biggest achievement of the year.
In these blog series I will try to keep a journal of how I am preparing for this adventure, starting with the month of October.
First of all I will start with a disclaimer:
I am not a professional athlete nor I am professional coach or trainer. I have always trained myself by doing what feels ok for me. Therefore my preparation for this 50 miler is not a recipe on how one should train for such an event.
In other words "don't try this at home" but keep reading.
Now how am I training in general? The approach that I take is very simple, I try to run between 100 – 120 kilometers a week with the maximum distance of the longest run building up to around 60 kilometer, add in a bit of speedwork in shorter trainings and do some core stability and upper body training with planking exercises and kettlebells. Throw in a rest day here and there when I feel it is needed and hopefully this should get me ready for the challenge ahead.
I have a few milestones built in during the months towards the race, one beeing a course recon with a 55 km run 6 weeks before the race and the other being a 55 km trail race about one month before the race.
So how did my first month of training turned out to be…
Week 1 – 28th of September to 2nd of November
During the holiday in Japan I hardly did any running, just a few short runs to tick the running in Japan box on the "things to do in Japan" list. And so it was time to get moving again.
In these first few days I did not really have a plan and just went out for a few runs and some cycling trips to get an idea of where I am at endurance wise. The first run and the two short cycling trips went quite well so it was time to start increasing the effort a bit.
On Sunday morning the 2nd of November I went out for an early run, the plan was to get a 20 km run in before the start of the Formula 1 GP. During the run I found myself struggling a lot, barely able to keep a 6:00 / km pace while my heart was racing up to a 160 bpm heartbeat. "I had no idea I was in this bad shape" were my initial thoughts during the run. I completed the 20 km with a few walking breaks in between to catch my breath. All of a sudden I felt like I had to start from scratch again, how could this have happened.
Week 2 – 3rd of October to 9th of October
On Monday morning it suddenly becomes clear why yesterday's run was so horrible, It seemd I had caught a nasty stomach flu. I felt terrible, nauseating, extremely tired and end up spending most of the rest of the day on the toilet.
The rest of the week basically proceeds in the same way with me spending most of the days in bed with my exercise at most consisting of a very slow walk to the supermarket and back. On Saturday morning I managed to go for a short run bringing my total for the first full week of training for the Bello Gallico to a whopping 6.6 kilometers.
To make sure that this week was not a complete disaster in my preparation for the Bello Gallico I also focussed on the preparation of my gear for this trail. One of the required items is that you need to have a rain jacket in your backpack. Since I did not have a rain jacket that would fit in my race vest I stopped by the Mud Sweat Trails trailrunning store of my friend Tom and bought this cool Ortovox rain jacket.
Postponing my running training for a bit more Astrid and I decided to enjoy the nice weather before autumn sets in and went for a long recreational bike ride. The 83 km ride was quite a stretch for me as I still lacked energy, but it was nice to be active for over 4 hours and spend time with Astrid.
All in all the worst of my stomach flu seems to be over and now it is just a matter of regaining strength and fitness.
Week 3 – 10th of October to 16th of October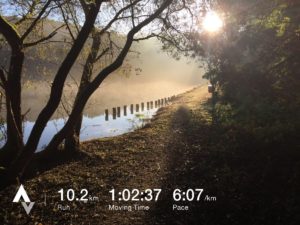 After being ill for almost a full week I was clearly not fully recovered yet, so long distances were not really an option for me. So for this week I decided to stick to relatively short distances. So I started with running a simple 10 km road course near the office where I work on Monday and repeated the same run on Tuesday, Wednesday and Thursday. Nothing really exciting just covering some distance while still recovering from the previous week.
By the end of the week I was slowly beginning to feel stronger and was able to build up the distance up to a nice run of 18 km in Etten – Leur, followed by a nice trailrun in Kerkrade the day after. Over the week I managed to run around 85 kilometers spread out over 7 runs and finally felt I had recovered enough to pick up training for a long distance.
Week 4 – 17th of October to 23rd of October
Since the previous week consisted of 7 days with running trainings, I decided to start this week with the part of training that I hate the most…. Rest. I am really bad at rest days but I do know that it is something that I should really do to give my body the chance to recover from the training runs and grow stronger.
So this week the running training started on Tuesday with relatively easy runs during the workweek with a 15,2 km, a 21,2 km and a 12,4 km on the workdays. And then it was time to go for a bit more distance. So I started with a very easy but long run on Friday, covering a bit over 32 km followed by a 20 km trailrun on Saturday and another 12 km trailrun on Sunday. Finishing this week with a total of 114 km, now we are getting somewhere.
Week 5 – 24th of October to 30th of October
I wanted to do another 100+ km training week to keep building on my progress of last week, which would become a challenge considering I had a day filled with job interviews planned on Wednesday and would help out my friend Tom of the Mud Sweat Trails trailrunning store with his booth at the Dutch Trailrunning championships on Saturday and Friday.
So no time to waste, I needed to get some decent distance in right from the start of the week.
During the work week I managed to get some decent running distances in with a 10 km on Monday, 25 km on Tuesday, 15 km on Wednesday, another 10 km on Thursday and just before the weekend began putting in a 14 km on Friday.
This weekend I would only have time to run on Saturday morning, so I had to get my long distance in on this day. And so I left the house early at 7:30 AM in the dark, planning to go for a 3 hour run. Keeping my heart rate low I ran at a relatively low pace for 3 hours and covered 31 km in total. This brought the total of the week to 105 km.
After a quick shower I enjoyed lunch outside together with Astrid before driving to Schoorl to help Tom setup the booth of the MST Store at the end of the afternoon.
I arrived in Schoorl around 15:30 after 1,5 hours of driving. Tom had just arrived and I helped him unload the trailer with the tent all the clothes, shoes, Buffs and everything else after which we started assembling the tent and arranging all the merchandise in and around it together with Tom's son. By the time we were finishing setting up everythin trailrunners were already browsing and buying. After a successfull evening I went home for a good night of sleep, although a bit short.
Sunday did not allow time for a workout as I was supposed to be in Schoorl before 8:00 AM for another day of booth duty. And so the alarm clock went off at 5:00 AM and Astrid and I were in the car at 6:15. The day at the Mud Sweat Trails Store booth was a great experience, meeting both familiar faces in the trailrunning community as well as helping people new to the sport with advice about gear and nutrition.
During this week I got so fed up with my brand new Suunto Spartan Ultra sports watch that it was time to change it for something else. I have bought the Spartan at it's introduction, being one of the first in The Netherlands to own one. Right from the start it became clear that this product was not ready to be released.
I will not go into details here since I can ramble on for hours about the bugs and missing features in it. In the end I have agreed with Suunto that they would take it back and give me a full refund. Leaving me with the choice to purchase something else.
I have chosen for the Garmin Fenix 3 with optical HR sensor and was very pleased with the performance and features right from the start, no more annoyances during training runs of dropping GPS signals, the battery running out and the HR sensor disconnecting.
And so the first month of prepartion came to an end. A slight setback after a week of illness but still happy with the progress so far. With about 7 weeks to go before the big event and at least one week of tapering I still have work to do the next 6 weeks and cannot afford any more troubles such as illness or injuries but I do feel confident that if all goes well I will be toeing the starting line of the Bello Gallico with enough preparation to be able finish it.
To be continued next week…..
Tags: Trailrunning, training, ultrarunning