2015 in retrospect…
And so 2015 has come to an end. Looking back on 2015 there is one clear observation that I can make. 2015 is the year in which running turned from a hobby to an essential part of my life and personality. Running is what brings me freedom, challenges, friends and closer to myself and nature.
At the end of 2014 I had just ran my first 10 km race and would have never expected to be where I am now. I considered myself as just the average runner, going for a run a few times a week just to stay fit.
Now, a year later I can look back on a year in which I discovered a strong passion for trailrunning, fel into a few pitfalls but came out of them stronger and wiser.
At the end of the year I ended up with some numbers that I would have never expected to accumulate in running in a single year:
Even though I am proud of these numbers and achievements, it is the story behind it that really counts for me.
Numbers can only tell part of the story. Each race, each training kilometer, the different running equipment gathered over the year, the videos recorded and the new friends I have met bring their own memories with them.
Looking at what the achievements in running in the past year really mean to me I have tried to highlight a few things in this blog post.
Most memorable races.
I have run a total of 15 races in 2015 of which I finished 14. During the year I have already reflected a few times on several of these events and have often asked myself which one of them was most important to me.
For me it is impossible to single out one so I have made a top 3 (which was already difficult enough).
3. The marathon of Amsterdam in October.

The distance that I said I would never run became the most important race of the year. Thinking back to this race makes me proud of what I have achieved but also makes me wonder of what might have been.
In the months and especially the last weeks leading up to this race I let my training and especially my "diet" slip. I gained about 5kg and was not in the best shape when I started the marathon. The fact that I still managed to finish in less than 3:30 is an achievement I am quite proud of, but who knows what could have been the finish time if I would have been fully fit. We will see at the next marathon.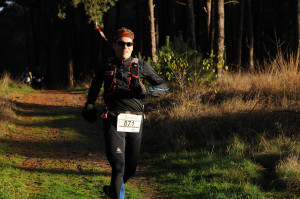 2. The 55 km Lommel trail in November.
Completing my first ultra run was a special experience and another turning point in my running aspirations. The experience of this first ultra made me hungry for tougher and longer races.
It also made me realize that I have yet to find my limitations. I am not a very fast runner, but I do have the ability to go long distances.
1. The 1/2 marathon of The Hague in March.

The race that I ran as a tribute to a friend who passed away unexpectedly a few years ago while we had planned to run the CPC run together. This was also the only race in which I encountered an injury in the training up to the race that made me doubt if I would be able to run it at all. On race day I was fit enough to run and I enjoyed every minute of it and I am sure my friend would have been proud.
The emotional aspect of this race, made this reach the first spot on the list.
The one that almost made the list…..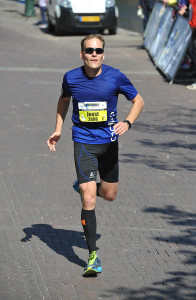 4. The 1/2 marathon in Leiden in May. In hindsight I consider this as my peak in fitness of 2015. After a crazy training week consisting of:
1,5 hour fitness training in the gym on Monday.
18 km of running on Tuesday.
135 km of cycling on Wednesday.
20 km of trailrunning on Thursday.
70 km of cycling on Friday.
10 km of running on Saturday morning.
Pacing Astrid for a sub 25 min finish on the 5 km night run in Leiden on Saturday evening.
And then on Sunday taking more than 3 minutes of my best time on the 1/2 marathon and finishing in 1:33:20.
Most memorable running experience?
Besides all the races we ran there were of course other running experiences that felt special. Again I am going for a Top 3 here. I have experienced so many great moments while running but a few of them clearly stand out:
3. My training run of 45.6 kilometers around the island Texel.
I have been visiting Texel since I was 11 years old and have been there numerous times since. It is a place that never bores me and that I love visiting. Even though I had run on this location before, it was limited to relatively short distances on just part of the island. This year I had the physical fitness level to try something new here. And so I went out for a run around the island, starting in the dark with a headlamp on and finishing about 4 hours later.
The video of this run can be found on my YouTube channel -> Texel Run 2015
2. The trailrun holiday in the French Alps
In May Astrid and I went on a trailrunning holiday for a week in the French Alps. Even though there could have been more running kilometers in the program it is still one of the highlights of the year for me.
Running in the Alps on challenging singletracks and high speed descents, hiking up to a glacier, amazing views, free climbing a rock face, great company and a well catered stay at the chalet.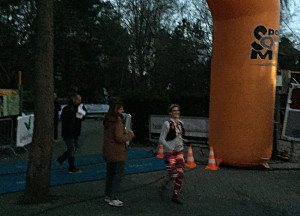 1. Astrid finishing the 55 km Lommel trail.
After I had finished the Lommel trail I waited at the finish line for Astrid's finish. In may 2014 she started running and I was running alongside here when she had to stop running after a few hundred meters to catch her breath again. And now about 18 months later I was standing at the finish line waiting for her to finish a 55 kilometer ultra trailrun.
Just before dark she finished her run and I felt so proud when she passed the finish line. I am sure we will experience more great runs together, but watching her complete this achievement was something special.
What will 2016 bring?
The story does not end here of course. 2016 brings a whole new year and many more challenges. I don't believe in new years resolutions so I am not going to make those.
What I do know is that I am happy with who I am and with what I have discovered about myself. For 2016 I have set myself a few sporting goals that can basically be summarized as:
Improve my time on the marathon; attempting this at the Rotterdam marathon on the 10th of April.
Run a multi day trail event; planning to sign up for the 90 km Veluwezoom weekend as soon as registration opens up.
Run a long tough ultra trail event. Initially I had set my mind to the Trail des Fantomes with 75 km and 3000m of positive elevation. Since this distance will not be in the program this year I will be looking for another event for this goal.
Run my own planned 40 mile Texel run on the day that I turn 40.
I will surely run more events that just these four simply because I like the trail-running events and the atmosphere around these events. And since running has become such an important part in my life I am also happy that I am looking into the possibilities to create more spare time to be out running.
But most importantly, 2016 will bring more challenges, more experiences, more trails, more joy. And I will be sharing my experiences here. So stay tuned, because I am quite sure I will be doing things that I cannot imagine myself doing yet.
See you out on the trails!